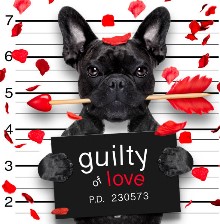 Delightful DIY Treats to Share with Your Pets on Valentine's Day
by Lisa Maione, February 13, 2023
As Valentine's Day approaches, you go above and beyond to show all the special people in your life how much you care. You make reservations to have dinner with your S.O. at your favorite restaurant. You order a showstopping flower arrangement to be delivered to your sweetheart at work. If you have children, you make sure they have the cutest cards and candies to share with their classmates and teachers. While you scramble to make all of the V Day preparations, it's easy to forget the ones who show their unconditional love and loyalty every day of the year – your 4-legged furbabies. This year, why not show some love to your favorite felines or canine companions? With a little bit of craftiness and less than an hour, you can create a sweet treat to share with your canine or feline Valentine.
A Few Safety Tips
On Valentine's Day, lots of people love to give and receive chocolate themed gifts. From heart-shaped boxes of chocolate candies, to baskets of chocolate covered fruits, cocoa confections can be found in most homes around February 14th. That being said, pet parents need to take extra care to ensure that their chocolate candies stay out of the reach of all cats and dogs. Chocolate contains Theobromine, a molecule similar to caffeine that causes a rise in blood flow to a pet's brain. While Theobromine is present in milk chocolate, the levels are higher in dark chocolate products. Even in small doses, Theobromine can cause seizures, other significant side effects, or even death for smaller dogs and cats. For the safety of your pets, skip the chocolates and try a homemade treat or toy instead!
DIY Dog Treats
Looking for a sweet treat for your pup that is healthy and easy to make with only 3 ingredients you probably already have on hand? Try these peanut butter cookies from Flora and Vino. In less time than it takes to watch an episode of your favorite Netflix series, you can make a delicious snack that both you and your dog can eat. Grab a cute heart shaped cookie cutter and double the recipe – the leftovers (if you manage to save any) can be refrigerated for up to 3 weeks. For chocoholics who want to share a safe version of chocolate chip cookies with their pampered pooch, this carob chip cookie from The Dapple is a perfect dupe. These 6 ingredient treats take less than 15 minutes to bake, with no rolling or dough chilling required. No carob chips on hand? No problem! You can order these vegan and gluten free carob chips and have enough to make another batch of these faux chocolate chip cookies to donate to a local animal shelter or rescue.
Creative Cat Treats
For a savory snack to satisfy the taste buds of any finicky feline, try these 4 ingredient cat treats from My Sweet Precision. Using a few simple pantry items and a food processor, you can make a healthy treat that can be refrigerated for a week or frozen for 3 months. To make these treats more Valentine's Day friendly, cut them into cute shapes using these V Day cookie cutters. Toss in a tablespoon of dried catnip to make these tuna treats even more irresistible to your kitty Valentine. These Kitty Crackers from Epicuricloud are a great alternative for pet parents who want to skip the salmon or tuna. These cheesy crackers can be rolled and cut with a pastry wheel for a frilly effect. Since the recipe yields 70 small crackers, they can be bagged in these budget-friendly Valentine's baggies and shared with all the special kitties in your life. To ramp up the Holiday flair, add some plant based food coloring to make red, pink, or even purple kitty crackers.
DIY Toys For Cats
Although cats have a reputation for being low energy pets who spend their days napping, they can still benefit from mental stimulation and play. Luckily, pet parents can easily help indoor house cats tap into their natural instincts, beat boredom, and sidestep unwanted behaviors with the introduction of a few basic enrichment toys. Planning to partake in some wine on Valentine's Day? Hang onto those corks to make these cute kitty toys from Jenn at Sweet T Makes Three. Using a few inexpensive items you have in your craft box, this simple toy can provide hours of fun for you and your feline friend. These toys can be customized with feathers, pipe cleaners, or raffia to meet the needs and style of your playful pet. Enlist the help of a crafty child to turn the toy making into a fun family project! Have a bunch of old t-shirts hanging around after a closet purge that are too worn out to donate? Don't toss them in the trash! These toys made from t-shirt scraps aren't just super cute – they are an eco-friendly way to upcycle fabric and keep it out of landfills. If you have scissors, a ruler, and a few old shirts, you can make a bunch of toys to keep your kitty busy and entertained for hours. The best part? You can use red and white fabrics to make these toys look like sweet Valentine's candies!
DIY Enrichment Toys for Dogs
According to experts at AKC.org, mental stimulation is a key component to keeping your dog happy and for decreasing unwanted behaviors that arise from boredom. While there are many options available in stores and online, you can save money by making enrichment toys with inexpensive items you have on hand or can easily buy in most stores. To enhance your dog's natural foraging skills, try making a snuffle mat like this one from Allison at Dream a Little Bigger. Grab a non-skid dish mat like the one in this affordable Amazon 2 pack and bunch of felt fabric scraps, and you're set! No worries if you don't have fabric scraps at home– you can cut your snuffle strips from an old fleece blanket or from some Valentine's print fabric sold by the yard. A DIY snuffle mat is the perfect enrichment toy for providing much needed mental stimulation, especially on days when physical exercise or outdoor walks aren't possible. Snuffle mats are perfect for dogs looking to shed a few pounds, as they prevent overeating by allowing dogs to eat slower. For a DIY Valentine's gift that is fun and diet friendly for your four legged friend, a snuffle mat is an awesome option. Want to make a gift for your furry friend, but you're short on time AND crafting skills? Then this muffin tin treat puzzle will fit the bill perfectly. Just add a few high value treats to the cups of a muffin tin, place a tennis ball in each cup, and voila! This low prep, versatile toy provides hours of problem solving and sensory stimulation for your pooch. It can be reused countless times with different treats to make a new and exciting game for your dog with each use. After a few rounds of problem solving with the muffin tin puzzle, your canine Valentine will be ready to cuddle on the couch to watch your favorite RomCom with you. For all the ways that our dogs and cats enrich our lives, from lowering stress to helping us reach our personal fitness goals, Valentine's Day is the perfect occasion for pet parents to repay the favor. This year, treat your pet to a one-of-a-kind, handmade gift that is as unique and special as they are.